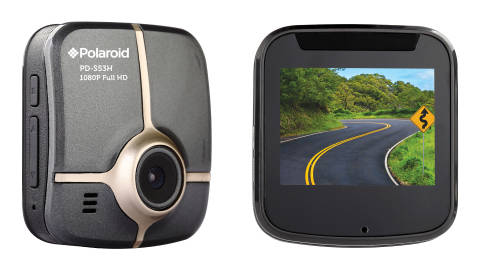 [FAIRNEWS]Polaroid today announces a new line of easy to use automobile dash cameras in the Polaroid booth #13614 at the 2015 International Consumer Electronics Show Jan 6-9 in Las Vegas. Not only does the range of Polaroid dashcams provide creditable documentation of events that occur on the road, acting as a personal eyewitness, but added safety features and warning systems provide an extra level of security for new and experienced drivers alike. Polaroid dashcams also add a new element of fun to the daily drive. With a dashcam in place, drivers will always be in a position to capture the unexpected - and sometimes incredible - moments that often seem to occur when behind the wheel. With a dashcam, drivers can instantly share these moments with others through their social channels and back up their 'you'll never believe what I saw while driving' stories with proof!
"The Polaroid brand is well known for our easy to use, innovative and family friendly imaging products"
"The Polaroid brand is well known for our easy to use, innovative and family friendly imaging products," said Polaroid President and CEO Scott W. Hardy. "With the average American spending more than 30 hours a year in traffic and about 5.4 million vehicle accidents annually, we saw the need to provide consumers with a dashcam that is designed to ensure their safety while in their vehicles. Additionally, families can use their Polaroid dashcam to help capture and document that family vacation while on the road because it is the little moments that you want to remember forever. "
Drivers are increasingly spending more time in their cars, with many of those hours clocked during busy rush hour commutes when accidents are more prone to occur. The Polaroid line of in-vehicle dashcams records in full 1080p HD to capture any incident in crisp, clear detail to help protect drivers in the event of an accident and to document what actually happened for insurance purposes. A built-in G-sensor automatically saves a recording when a collision is detected, and a GPS tracker records the location and speed, providing accurate data when an event occurs. Additionally, select models include added safety features such as a lane departure warning system, front collision warning system and speed limit indicator to help prevent incidents from occurring. These features make Polaroid dashcams an essential on-board accessory and influence the way we drive for the better, encouraging even safer driving habits amongst all drivers.
Features in the line of Polaroid dashcams include:
Records Full HD 1080p capturing incidents in crisp, clear detail
G-Sensor automatically saves recording when a collision is detected
GPS Tracker records location and speed, providing accurate data when an event occurs and included software provides easy playback with GPS information
Quickly mounts to the windshield and plugs in to the 12v auxiliary power outlet for easy installation
Continuous Loop Recording captures all of the action and includes time/date stamp on all recordings
Auto record On / Off starts and stops recording with the vehicle power
Lane departure warning system helps prevent distracted driving with voice alert & alarm screen when vehicle deviates from the lane
Speed limit alert provides voice alert and on-screen message is triggered when vehicle exceeds the maximum speed setting
LCD screen provides easy access to menu and video playback
The Polaroid dashcams, offered by Giinii, an authorized Polaroid licensee are also the perfect way to document that family road trip and will capture those entire unexpected event to share with your friends and family.
The Polaroid automobile dash cameras range from $59.99- $199.99 and will be available in Spring 2015 at www.polaroid.com.